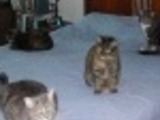 Found this in the paper today and wanted to post it for Zaar World Tour 2006. It sounded absolutely fantastic and I finally tried it myself. Was I right! Homemade tomato soup with 10x the taste! I served with crusty ciabatta bread for dipping. I added vegetable stock instead of regular water because a good stock is always the basis for the best soups. Lighten up on salt (if you use stock) and the cumin if you want. I only added 1 teaspoon cumin, 1 teaspoon salt, and no cayenne. I used 1 large bunch of cilantro. Did not taste overly of cilantro once I took the bunch out. Adapted from "Mediterranean Light" by Martha Rose Shulman. I classified this as either a Greek or Italian recipe:D
Directions
Heat oil in a large heavy pot over medium-high heat.
Add onion and cook, stirring, until softened. Add garlic, cumin and paprika and cook 1 minute, stirring.
Add tomatoes, water or vegetable stock, tomato paste, cilantro and 2 teaspoons salt. Bring to a simmer, cover and continue to simmer 30 minutes.
Turn off heat, remove and discard cilantro and blend with immersion blender (or food processer or regular blender) until smooth. Season to taste with salt, pepper, lime juice and cayenne.
Serve hot or cold, with a spoonful of yogurt in each bowl sprinkled with cilantro leaves.